We are delighted to share another Larchfield Estate wedding fairy-tale! Our brides and grooms are so inspiring, so we thought we would share their stories with you?! Are you getting married or planning to get married in November? Holly and Jono got married on the 26th November 2016 and we think you just might LOVE their wedding blog as much as we do. Holly had a stunning veil, their bridal party wore dark colours to match the season, and their wedding day was full of so many quirky ideas - check out their table plan and guest book!
How did you meet each other?
We met at University in Liverpool. My being a girl from little old Northern Ireland, and him being a Manchester boy. We were best friends at first. Eventually 9 months later, my Irish charm (and cheese toastie making skills) wore him down!!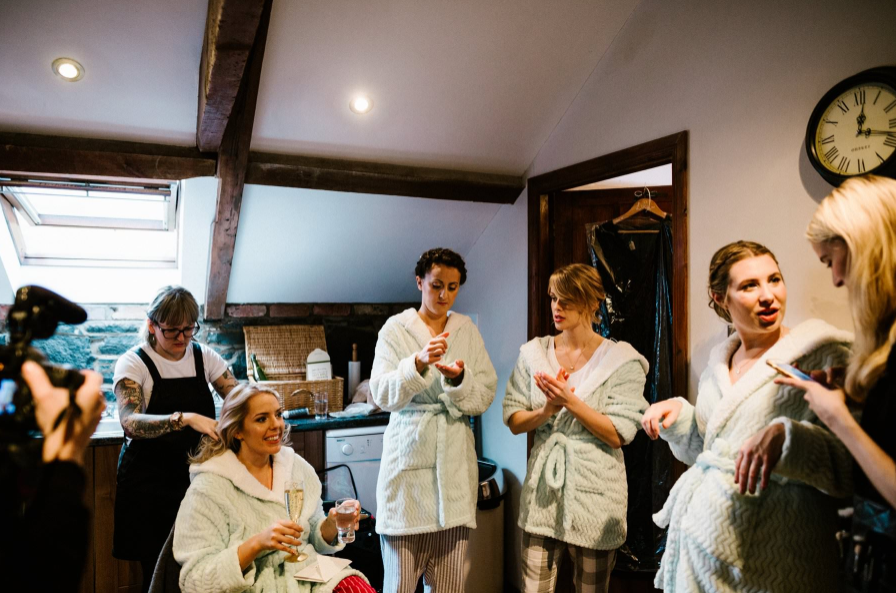 What was the proposal like?!
Well....long story. I thought it was good to give you ALL the details as it was pretty spectacular! We had been together for 8 years when he EVENTUALLY proposed!! I was a little (big) bit of a nagger and I wouldn't stop chewing his ear off about it. Being the extremely laid back person that he is, he was taking his sweet time and not rushing anything (which I now can say I respect!!). I never thought I'd see the day. Every little trip or day away here and there we took together got me wondering if he would pop the question...
Now I absolutely love my birthday and some say I treat it like a national holiday, so when my birthday came around he handed me my card and a small pressie - the card read that he would be doing the "12 days of Holly" where I would get a little gift every day for 12 days from my birthday. On day 7 of this national celebration, we were actually going away to Mallorca for a few days - where my mum lives (who I always wanted to be near or around when he finally asked me!). This gave a lot of my friends huge suspicion that this could be the time, however, myself having chewed his ear off for years thought there was absolutely no way because it was waaaaaay to obvious.
On day 10 I think it was, we were sunning ourselves in Mallorca when my step dad said he was taking us out for my special birthday meal at this incredible hotel in Mallorca (Son Brull, STUNNING!) and we would be staying over too. So the two of us, my mum and my step dad all giddy packed a bag and made our way to Son Brull for the day. We had a delightful day chilling by the pool drinking cocktails and it was absolute heaven. Before we were to meet my mum and step dad for dinner, Jono said, 'Oh you haven't had your day 10 present yet'. On our way to dinner, he handed me day 10's present in the gorgeous garden surroundings of the hotel. It was a view finder. There was a photo for every year we had been together, so as I was flicking through these, loving all the memories, when I took the view finder down from my face... low and behold he was down on one knee with the most gorgeous ring I'd ever seen in my life. I couldn't quite believe it, so just had to double check it was what I thought it was and it wasn't just a pretty ring!! Then off we went to celebrate straight away with my mum and step dad. Just lovely!! Told you it was a long story!
Did you envision your wedding day in a certain way?
Everything it was. It was the most spectacular day. Both of us loving every single moment and Larchfield was exactly the venue we had in mind from the second we set out planning.
What stood out about Larchfield Estate for you?
Everything!! The gorgeous, rustic barn style was exactly the look and theme we were going for! Jono absolutely loved that it was all contained and in one place. The flow of people from the ceremony, to the reception drinks, to the wedding breakfast was perfect! It was big but not too big and still really intimate! The cottages on site were the cherry on the top too!
What made you choose November? Was your wedding day a special date for you?
I am a sun worshipper so always thought I would be getting married in the sun and at summer time. However as we all know, we can't rely on the Great British weather no matter what time of year. And whilst you can't control the weather, I knew that if we planned for a June/July/August wedding and if the weather was bad that I would've been gutted. So next best time of year, Christmas! We wanted it to be close to Christmas and not too close, making it tricky for the English lot to get over. It was just perfect with a little Christmas sparkle sprinkling! Larchfield again lent itself PERFECTLY to this time of year, with the fairy lights and mammoth Christmas tree!
I always wanted to get married at home in Northern Ireland, even though we live in Manchester and that's where our life is now. I am so proud to be from N.I. and I really wanted our English guests to experience the Northern Irish hospitality.
Do you have any favourite wedding planning memories?
Jono would say it was the tasting hands down (typical!!). We had three options each for our guests covering starter, main and dessert. Posh Nosh our fabulous caterers put on an absolute spread for us prior to the day to ensure we had made the right choices! My favourite planning memory was when Jono and I flew over one Saturday morning on the first flight. We had a mammoth supplier day where we met two cake suppliers, the caterer for the day, the minister, saw the venue, met the band and met the flower supplier. Then flew back to Manchester that night. It was a full on day, but just amazing! I must say I loved every single moment of wedding planning, and even a year and a half on I am still seriously considering doing a part time Wedding Planning course alongside my full time job. I loved it!
Are there any suppliers you would like to give a shout out to?
Every single one of them were fabulous and we wouldn't change any of them. But I think the shout outs would have to go to Posh Nosh, especially Shona who was fab, and the food was just perfection! Katherine from Candytuft Cakes made our vision come true. Rare Aul Stuff our band were absolutely incredible and really suited the venue! And last but certainly no means least Lynette Murray and Mel Elliot, my hair and make up ladies. They were fab and made the morning truly special! Obviously not forgetting yourselves, with the whole team being fantastic and so accommodating!!
Can you give any advice to future couples planning their wedding day?
Spreadsheets!!! The whole day was on my trusty spreadsheet with 500 different tabs!! Whilst it's not the most glamorous, I found it so useful to have everything all in one place. I'm quite a stressy person, but I amazed myself and others around me that I was so calm for the entire planning and day. In the end, it's your day, so what's important to you. Don't lose that and go with what you and your partner want. It's so true what people told me that if things don't go exactly to your plan in your head on the day, it's only you and your groom who will notice. Everyone else won't notice and have a fabulous day! Enjoy every single moment, and remember the only important thing is that you and your partner turn up on the day! Oh another bit of great advice someone gave me was to have a dedicated guest who would tap you on the shoulder every now and then throughout the day to make sure you take a little moment and treasure it!