We want to share our couples wedding journeys. Share their inspirations and any advice they may have for you. Each wedding at Larchfield Estate stands out from the rest and we adore working with our couples to create their bespoke special days. We are so excited to share our second real life wedding blog from last July. Jenna and Chris have shared their wedding experience with you and we just love reading this love story. Jenna and Chris had their beautiful wedding reception here on the 1st July 2017 and you are going to be in awe of the magical snapshots of their day. They chose summery pink and blue tones within their theme alongside their elegant glamour.
How did you two meet?
We both went to Dromore High School but it wasn't until the summer that we left high school that we started dating. We will be together 8 years this April!
Would you mind sharing a little bit about the proposal…
I had no idea that Chris was going to propose, it was a complete surprise to me!
I was living in London at the time and we enjoyed doing tourist things and sight seeing on my days off work when Chris came to visit. We had talked about going to the Shard often for a drink and to see the view, so when Chris meet me after work one evening and said we were going for a cocktail I thought nothing of it.
I had just finished a busy shift in work and was starving so was really in need of a bite to eat so I suggested a quick stop at McDonalds before. Chris did protest a little saying that we could get something after our drink but in the end, he caved and there we were tucking into chicken nuggets and a burger before our posh drink at the Shard.
We arrived and I still had no suspicion. The view over London was beautiful at night, seeing everything lit up.
I was looking out at the view when Chris asked me to close my eyes. Thats the second I knew! I opened my eyes to the most beautiful ring and didn't hesitate for a second to say yes! We walked around for a bit to take in what just happened and call our parents, and then finally got that drink to celebrate.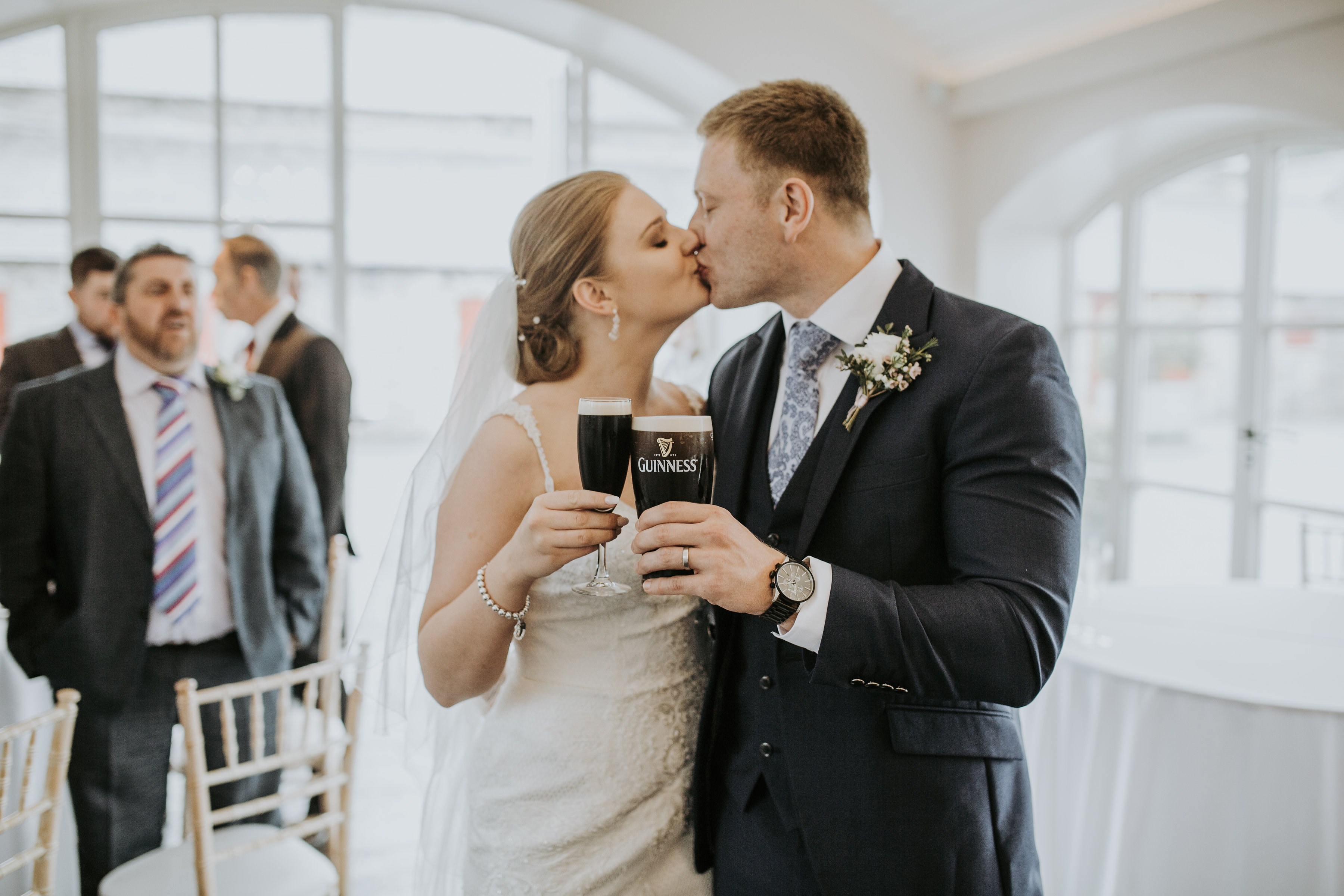 How did you envision your wedding day to be?
My wedding day was exactly how I had envisioned it. I wanted the decor to be simple and elegant. Our church and Larchfield are both so beautiful there wasn't a lot to do in that area. I didn't want to take anything away from what was already so stunning.
The most important was that our friends and family could come together to celebrate our marriage with fabulous food, great wine and a good dance. The whole day was smooth running and super relaxed.
What stood out about Larchfield Estate for you?
I had only been to view one location for our reception and that was Larchfield. Once I had seen the barn and the beautiful garden I knew there was no point in seeing any other venues. I am awful at making decisions. Usually I need to see all different options before making a decision but Larchfield was a no brainer. The cottages were a bonus. It was lovely to wake up the next day and chat to the ones who had stayed over night talk about the fun we had.
What made you choose July? Was your wedding day a special date for you?
The decision for our date was mainly made around work commitments. We also wanted to choose a day that suited the family. I am also a summer type of girl, although in true Northern Irish style there was a little rain on the morning of July 1st 2017, but it soon passed and the lighting in the evening was magical.
Do you have any favourite wedding planning memories?
My dress fittings!! There was nothing more exciting than going to the appointments with my Mum and Sister. Thats when it would always come to me that this was really happening. I was getting married!! Choosing my dress was just as easy as choosing Larchfield. I had only tried on a handful and it was my Mums choice that turned out to be the one. The girls at the bridal shop were the loveliest and made each visit special.
Are there any suppliers you would like to give a shout out to?
First of all a massive thanks to Larchfield. My Mum and I were blown away by the kindness and helpfulness of all the girls at Larchfield. There is no problem that the girls can't solve and if they can't come up with an answer there and then, you can be sure they will get back to you by the end of the day with a solution. Also thanks to Jim for the warm welcome when we arrived and for over seeing the day as it went on.
The one thing that our guests still talk about almost a year on is the food. It was spectacular and the staff were brilliant. Yellow Door really hit the spot and they were most accommodating with the different dietary requirements.
One last shout out to my Mum for all the homemade jam wedding favours and my Aunt for making us the most delicious wedding cake and cupcakes that were enjoyed well after the wedding! It meant a lot that I could get my family involved in the big day.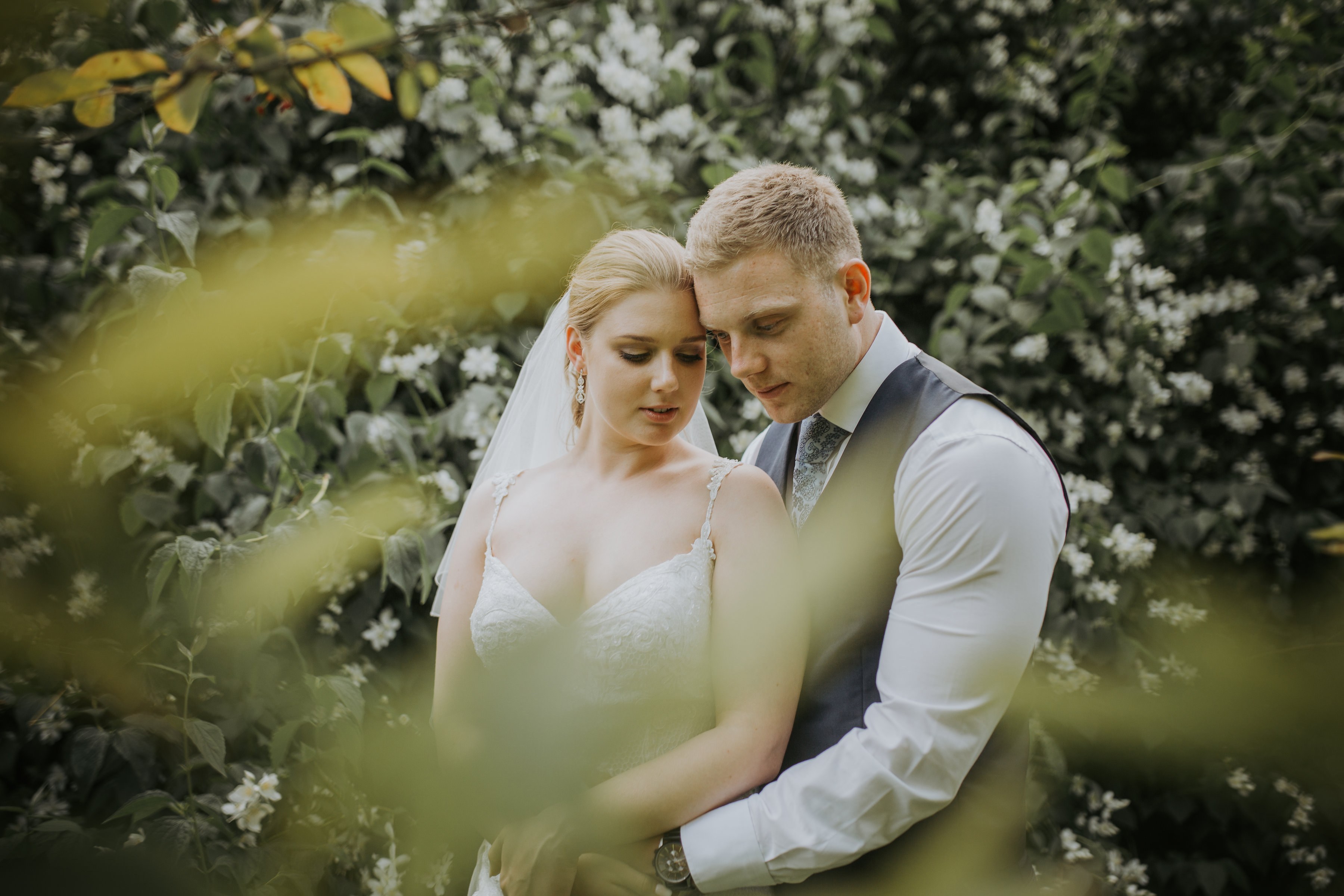 What advice would you give to future couples planning their wedding day?
Dont stress on the small things. I spent ages looking for the right candelabras for the tables but at the end of the day, the guests are more excited about spending time with you, the meal and dancing!
Reusing your flowers if like us, your ceremony is in a different location to the reception. Our florist, The Posey Barn, was super and transported the flowers from the church to Larchfield after the ceremony. What we had on window ledges in the church went on the centre of tables and the arch outside the church door was broken up and placed on the top table and around the venue.
Everyone says it, but enjoy it. Stand back, look around and take it in because it goes by in a flash.