Meet some of our most trusted suppliers who will be joining us for our Summer Wedding Open Evening, Thursday 11th May 2023
As we approach our Summer Wedding Open Evening next Thursday 11th May, we would love to introduce you to some of the folk you will be able to meet on the day!
Our Wedding Open events take place to allow our couples, and anyone interested in potentially booking Larchfield Estate for their wedding day, the chance to explore the venue, grounds and accommodation at Larchfield Estate. You can also chat to our our in-house wedding specialists to find out the finer details about planning your day with us, and also meet some of our most trusted suppliers too!
If you still need to book your complimentary tickets, just click on this link to secure your space!
Ahead of the day, we thought it would be a lovely touch to introduce you to some of the suppliers who will be joining us, so that you can hear from them, in their own words:

BLOOMING EVENTS
Blooming Events are industry leading faux floral wedding stylists who specialise in providing modern couples the ability to hire bespoke, on-trend wedding decor. Offering a holistic approach to wedding stying, Blooming Events provides everything needed for your special day ensuing a seamless and stress free experience. Owned and operated by husband and wife duo, Anna and Jonny are passionate about weddings and love nothing more than being a part of their couples wedding journeys.
BRIAN JOHN SPENCER


Brian John Spencer is a portrait and landscape artist living and working from his barn studio in County Down.
Specialising in wedding and event portraiture Brian regularly attends weddings and events across Ireland, Europe and the USA.
Brian can attend your wedding or event and draw full body watercolour portraits, black and white pen sketches or headshots of guests.
Using his artistic skills Brian can capture your wedding ceremony taking place on canvas or paint your venue live as a form of entertainment for guests on the day. A unique forever keepsake of your special day.
We can create a bespoke package to suit your needs.
BROOK AVENUE GELATO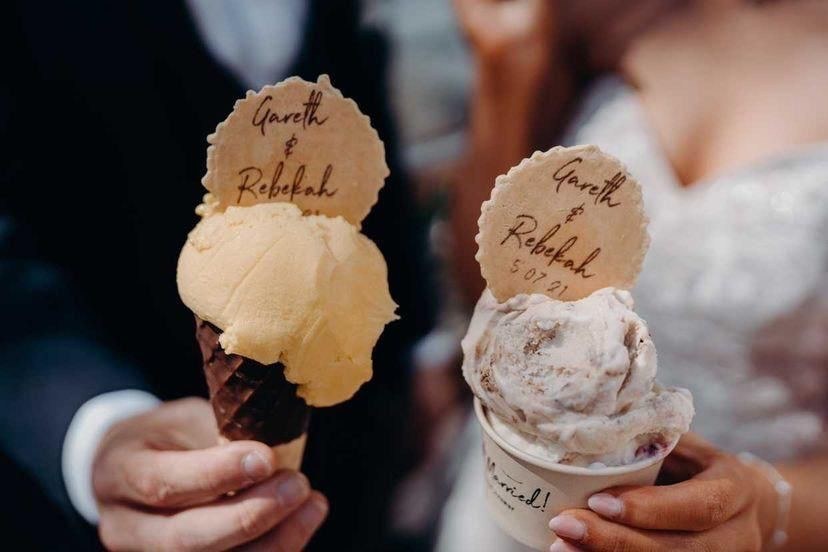 If you're thinking of ways to add something special to your day, then say 'I do' to the freshest gelato you'll ever have. We provide bespoke homemade gelato for you and your guests served from our one of a kind custom built gelato cart.
Keep guests occupied and entertained on arrival at your reception or we can cool your guests down after dancing all night.
One of the best parts of booking with us is that the choice of flavours is up to you and they are completely unique to your day as we make it fresh for each event. We also cater for non-dairy, gluten free and vegan guests with flavours everyone will love to try.
Just get in touch to find out more and let's us scoop some gelato happiness on your day.
EMILY-ROSE WEDDINGS
Emily-Rose is a professional wedding singer, accompanying herself on acoustic guitar. With a voice comparable to Eva Cassidy or Norah Jones, her style of music lends itself magnificently to the romantic atmosphere of a wedding day. Emily-Rose is also a professionally trained makeup artist, having worked in the industry for over a decade and travelling as far as Vietnam to perform for couples, she loves everything to do with weddings! Let Emily-Rose make you up in the morning, and sing you down the aisle in the afternoon!
JEAN BARRETT QUINN


'Hi I'm Jean! I am Humanist Celebrant accredited through the charity Humanists UK.
I write and conduct joyful, inclusive, personal, meaningful and legal non- religious ceremonies in Northern Ireland.
I will always be humbled by my couples trust in me to write their love stories. Working together I learn about the joy, the loss, the pain, the heart break, the tears running down their faces and sides hurting from laughing and the incredible choices that they have made to lead them to celebrating with their chosen person on their wedding day. On the day I deliver a warm ceremony that encapsulates all of this celebrating you and those you are closest too, also whilst marrying the heck out of you of course!
I love my job, can you tell?!'
LIT PHOTOGRAPHY NI

'Hiya, I'm Lauren. Empath, deep thinker, happiness radiator, and a chatty and cheerful wedding photographer in Northern Ireland.
So I've got a little theory about wedding photography. If you wouldn't do it on date night, you shouldn't have to do it on your wedding day. Because whoever you love and however you show it, your love is special because it's yours. You've found your person! Silly jokes only the two of you find funny, arms snuggling around familiar waists, a little look you only ever give each other. The smallest of moments that feel like home.
And that's the love I want to capture. I want you to look at the photos and see you. Blissfully happy, hopelessly besotted you. So we won't be spending all day working our way through a Pinterest checklist, chasing the 'perfect photo'. I want us to get excited together, joke around, have fun, and go through the day as a little three-wheel team. I want to give you a wedding day where your experience comes first, and the photos follow after.
I'm going to give you wedding photos you'll always love. And not because we've created picture-perfect frames. But because we've captured real moments, and the moments themselves were perfect.'
OLD BARN CATERING

'Old Barn Catering are delighted to have been catering weddings at Larchfield Estate for ten years – it is fair to say that we love the venue! From the effortless charm of the main barn to the wonderful and varied gardens, Larchfield provides the perfect back drop for us to cater to our guests'
Who else will be there?
In addition to our in-house wedding specialists Cathy, Gabby, and Hannah, you will also be able to meet our accommodation team Shan & Charis, and some of our banqueting managers too! Some of our other carefully selected suppliers who will be joining us include:
-NJB Bar Services
-Craft Catering
-Foodie Folk
-Blue Moon Event Design & Styling
-Kings and Queens Event Hire
-The Picture Bus
-Letters in Lights
-Two Little Words Design Studio
-The Rare Aul Stuff
Visit our 'Weddings' page to read more about hosting your day at Larchfield Estate
We look forward to seeing you there!