With our story stretching back to the 1600's, Larchfield Estate is steeped in history, with many people having had a connection to the house throughout the ages. We were so moved a few weeks back when we received a letter from Mrs Freda Wallace – following the publication of an interview with our current estate owner Sarah Mackie in the Belfast Telegraph.
Freda with her sisters, mother and neighbours at home in Larchfield Estate - 1940's

Mrs Freda Wallace lived at Larchfield Estate from 1936 – 1945 when her father worked as the Head Gardener, during the ownership of the Ogilvie-Graham family. She wrote to tell us of her memories living here – in a house on the estate which is now known as 'Rose Cottage', our 5* luxury cottage - and of visiting some years later with friends to see the alpacas!
Telegram appointing Freda's father the role of Head Gardener at Larchfield Estate - 27th March 1936

Freda's Letter:
Dear Mrs Mackie,
Reading your article on living in Larchfield brought back many happy memories for me. I lived in Larchfield 1936-1945. My father was appointed Head Gardener. We lived in house nearest back gate into gardens. The gardens were beautifully kept in those days and produce sold once a week in Belfast market and local neighbours came to buy. It was packed into estate cars. We got ours free and free milk.
I knew Mrs Graham – we called her Granny Graham. She gave all the children on the estate Christmas presents. Once a wooden jigsaw, and once a Common Prayer and Church Hymn album – Xmas 1944. I still have this.
My mother helped on a Thursday getting things ready for the market – she got money given to her at Christmas. The produce was packed in to the estate car and driven by Christy Jameson.
We had evacuees staying with us too. There was a guard at both gates.
A number of years ago… we arranged to take our friends who had alpacas to see the alpacas at Larchfield… we really enjoyed the visit.
I hope you don't mind me writing to you but I just had to tell you my happy memories.
Yours Sincerely,
Freda Wallace nee Morrow

Ivy, Ivy's daughter & Freda at Larchfield Estate on 29th March 2019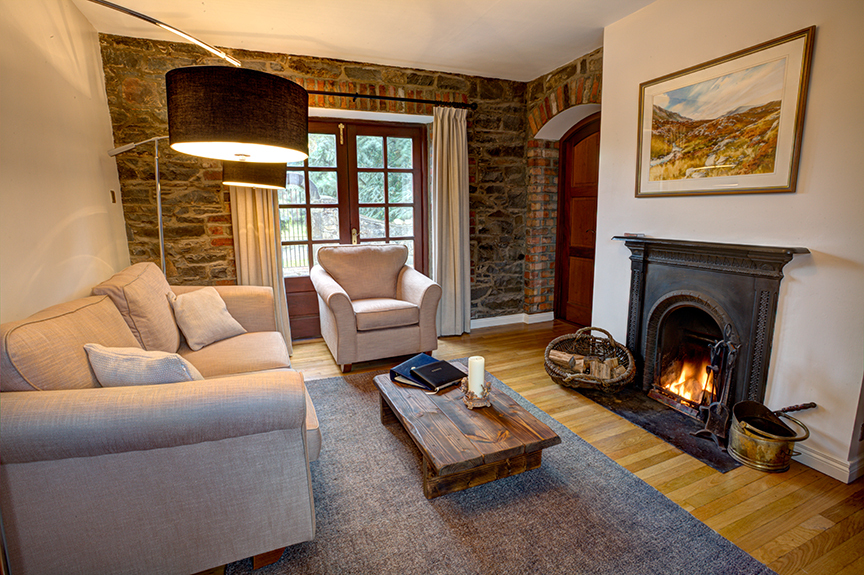 The sitting room in Rose Cottage as it is today in 2019 - once home to Freda and her family
A few weeks ago we were delighted to welcome Freda, her sister Ivy and Ivy's daughter for a visit back to the estate – it was wonderful to meet the family and to hear Freda's stories of living here. Whilst the gardens have changed in composition throughout the years we do hope that Freda and Ivy's father would have been proud of them still today!

Our gardens today - providing an idyllic space for our guests to wander and explore...

Rhododendrons along the Larchfield Estate driveway provide a popular & vibrant backdrop for many of our couples' wedding photos